A music enrichment program as an educational listener's guide to jazz.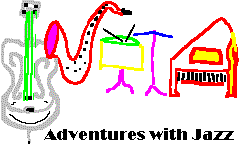 Requirements
Adventures With Jazz requires very little from the school on the day of our visit:

Electrical power within 10 feet via a wall plug or extension chord.
A space measuring 15 feet wide and 10 feet deep in which to set up is ideal.
We travel with our own electronic gear: microphones, etc.
We are able to perform in many different venues, varying from a large auditorium to a one-room schoolhouse.
We encourage the children to sit close to the performers.
For more information please contact: Adventures with Jazz